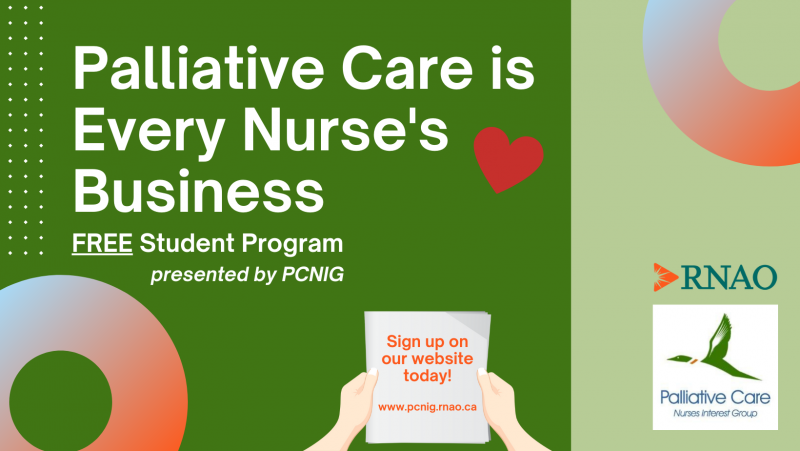 We have created the PCNIG student program "Palliative Care is Every Nurse's Business". It is an engaging panel of experts to help nursing students better understand the scope of palliative care. The program will be delivered to you absolutely free! 
How it works:
Each Monday from February 28 to March 28, 2022

, you will receive weekly videos to watch and a short reflection to complete. Once you have completed 5 sessions, you will be awarded a certificate that you can add to your resume.
Completion of the program also entitles you to deep discounts on another program we are planning to run in May/June 2022. More on that one later!
Sign up:
If you are ready to sign up for this free certificate program, please fill out this Google form. We look forward to having you in the program!
Steps for completion and certificate achievement:
View the weekly video. Closed Captions are available.

Leave your response (the link to the Google form to respond to the video is in the video description as well as listed below the video on the landing page).

That's it! Your responses may be shared anonymously with the presenters as a way to let them know how their words impacted you.
Questions? Technical difficulties? Feedback?
If you have any questions, technical difficulties, or would like to offer your feedback, please email rnao.pcnig@gmail.com and include the program name "Palliative Care is Every Nurse's Business" in the subject line or complete the contact form on our website.
Week 1 (Feb. 28, 2022): Sandra Twiner-Ross, BA, RN, CHPCN(C)
Week 2 (Mar. 7, 2022): Teresa Romeo, RN
Week 3 (Mar. 14, 2022): Mahoganie Hines, BScN, RN, CHPCN(C)
Week 4 (Mar. 21, 2022): Maria Rugg, MN, BScN, RN, CHPCN(C), CHE
Week 5 (Mar. 28, 2022): Sheila Deans-Buchan, MN, NP-Adult, CHPCN(C)