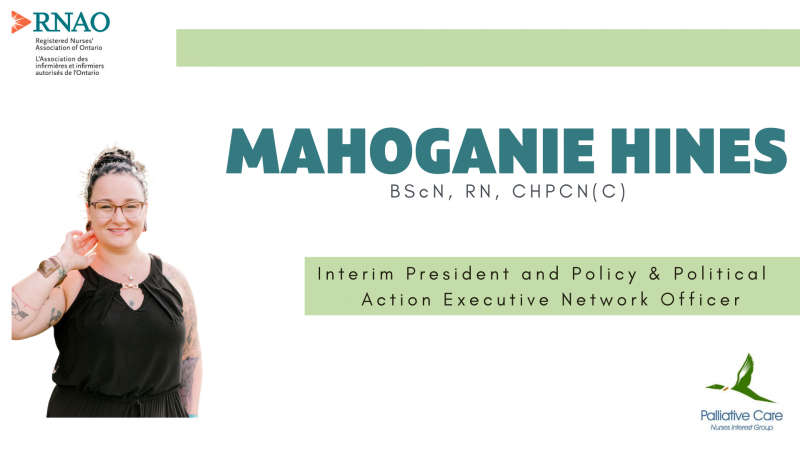 Mahoganie is an active and ardent member of the palliative care community. She currently volunteers her time to act as the RNAO's Policy & Political Action ENO for the Niagara Chapter and PCNIG, sits on the CHPCA's Nursing Group as Secretary/Treasurer, Overdose Prevention Network of Niagara (OPENN), volunteers at the local CTS and referees for Niagara Roller Derby. She co-wrote the resolution "Palliative care an issue of the public's health" (2018) and sat on the expert panel of RNAO BPG "A Palliative approach to care in the last 12 months of life" (2020). Currently she works as a Palliative Pain and Symptom Management Consultant throughout the Niagara region and at McNally House Hospice. She is the recipient of RNAO's President's award for leadership in clinical nursing practice (2019) and Niagara's 40 under 40 award (2020).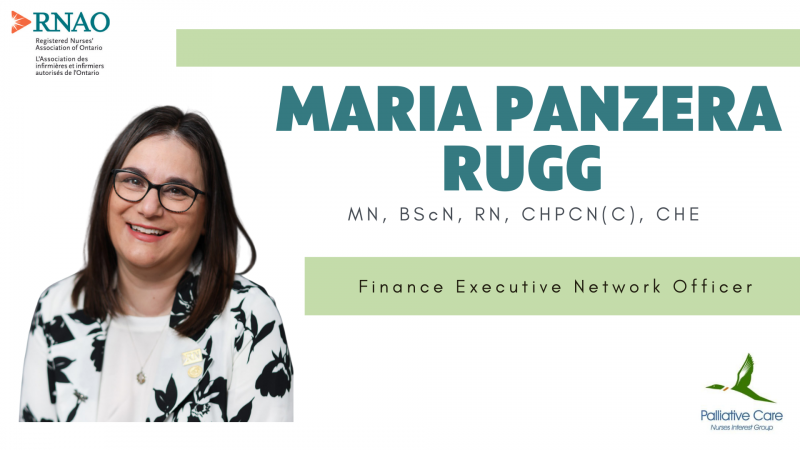 My name is Maria Panzera Rugg. I have been a Registered Nurse for the past 31 years spending the first half of my career clinically in pediatric nursing as a nurse/nurse practitioner with extensive experience in acute/chronic care focusing on palliative care, pain management, bereavement care and patient experience. The last 10 years my career has focused on adult palliative and psychosocial care within the acute care, cancer care, and community setting. My education is an honours nursing undergraduate degree at the University of Windsor and Master's degree in nursing as a nurse practitioner/advanced practice nurse from the University of Toronto. This has continued with a Canadian Nursing Association National certification in palliative care since 2003 (18 years certified in 2021). I am presently a candidate for certification in the Canadian College of Health Leaders as Canadian Health Executive (CHE) for 2021.
Carolyn Wilson has been a Pediatric Nurse for over 10 years with a passion in patient centered care. She has worked across Pediatric centers and currently continues her career at Holland Bloorview Kids Rehabilitation Hospital. Her main passion is Advance Care Planning in Pediatrics and ensuring that children's care is delivered with the underlying goal of adding life to years as opposed to years to life. Through the RNAO's Advance Practice Fellowship she created resources and awareness on ACP in pediatrics. She is now an active member of the Hospice Palliative Care Organizations subgroup on raising awareness, resources and education on ACP for Pediatrics. She has presented locally and nationally on this topic. She is committed to advancing care to include the palliative care pathway and advance care planning to ensure that children are able to live their best lives with the most optimal supportive care.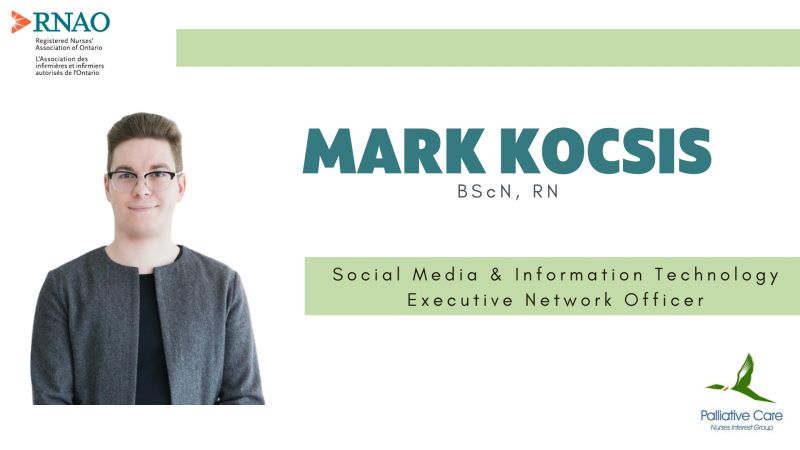 Mark is a Clinical Educator - Nursing at Unity Health Toronto, St. Joseph's Health Centre. His portfolio includes inpatient medicine, oncology, and palliative care and outpatient oncology-haematology. Mark also holds a casual Registered Nurse position at Dorothy Ley Hospice. Mark is a de Souza Nurse Associate designate, one of only 45 in Ontario. Mark received his Bachelor of Science in Nursing from Ryerson University in 2017. He is currently pursuing a Master of Science in Community Health at the Dalla Lana School of Public Health, University of Toronto with a concentration in Health Practitioner Teacher Education. Mark is also enrolled in the Advanced Nursing Leadership & Management Certificate program at Ryerson University. Mark continues to strive towards nursing excellency- his future goals include writing the national palliative care specialty exam to obtain the CHPCN(c) certification through the Canadian Nurses' Association and becoming a full de Souza Nurse designate.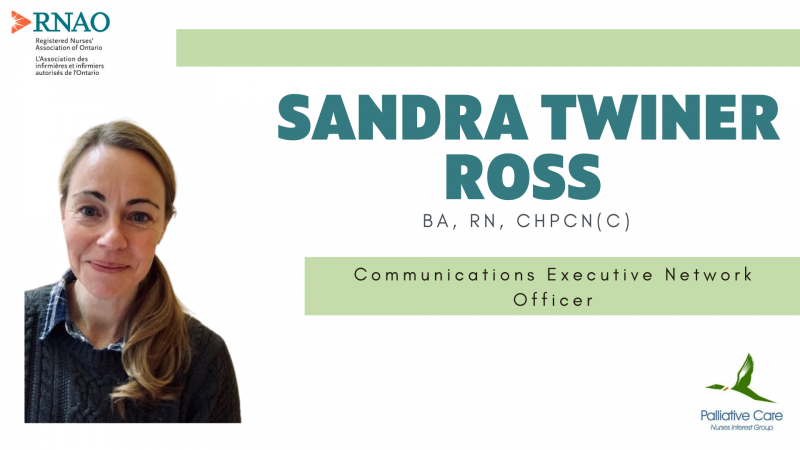 Sandra Twiner Ross has spent much of her career working in pediatrics with a specialization in both oncology and palliative care. She believes passionately that children have a right to a childhood despite their lives circumstance and her drive to action innovative solutions that address suffering has found her working as a consultant for Campfire Circle (formerly Camp Ooch & Camp Trillium), at McMaster University's Research Department of Paediatrics, and as the former clinical director at Emily's House Children's Hospice. She is thrilled to join the RNAO Palliative Care Nurses Intrest Group and work to elevate the profile and prestige of Nursing in Ontario.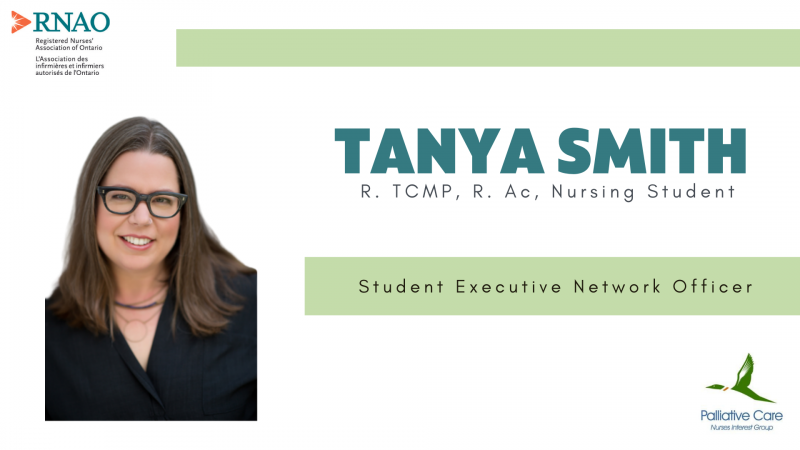 Tanya Smith is a second-year nursing student at Ryerson University in Toronto. She is studying nursing as a mature student and has an interest in working in the palliative care field upon completion of her studies. One of her areas of interest is advance care planning and helping loved ones have difficult conversations about death and dying. She is curious how these conversations can foster community building and interdependence to create the web of support that surrounds people as they are affected by dying. Tanya is a Registered Acupuncturist and Traditional Chinese Medicine Practitioner in Ontario. She has been practicing acupuncture and Chinese medicine for 16 years with a focus in women's health, pregnancy, and fertility. Tanya is honoured to be included as a student representative with the PCNIG and is looking forward to getting to know professionals who share her interests.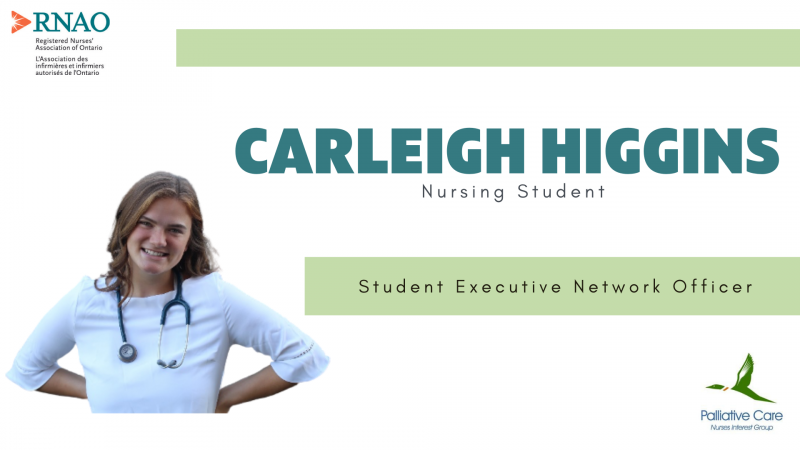 Carleigh is currently a second year nursing student at Queen's University located in Kingston, Ontario. She is a continuing executive member for the Queen's Nursing Research Club, which strives to provide educational opportunities to undergraduate students in the research field. Additionally, Carleigh spends her free time volunteering in rehabilitation programs within the community or mentoring incoming nursing students as they make the transition to university life. She is thrilled to be representing as one of the Co-Student Liaisons for this two year term, and as a continuing student ambassador for the Registered Nursing Association of Ontario.