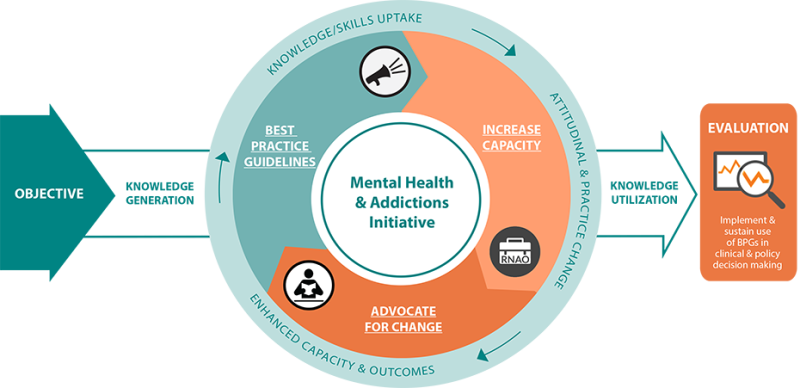 The Registered Nurses' Association of Ontario's (RNAO) Mental Health and Substance Use Best Practices Program, established in 2006, drives change by providing leadership to enhance evidence-based care and services related to mental health and substance use across all health-care settings.
The program supports nurses and other health professionals to achieve these goals by:
developing and implementing of best practice guidelines (BPG)
helping nurses increase capacity by providing education and networking opportunities
collaborating through partnerships with provincial and national organizations to implement best practices in mental health and substance use
advocating for organizational, policy and system changes to ensure clients receive quality evidence-based mental health and substance use care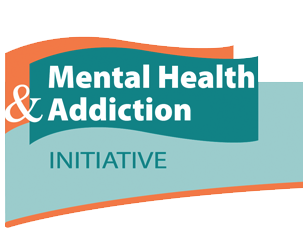 The purpose of the RNAO Nurse Educator Mental Health and Addiction Resource is primarily to support educators with effectively integrating mental health and addiction knowledge and skills into the undergraduate nursing curriculum. The resource is based on the Canadian Association of Schools of Nursing (CASN) and the Canadian Federation of Mental Health Nurses (CFMHN) Entry-to- Practice Mental Health and Addiction Competencies for Undergraduate Nursing Education in Canada (2015) and supporting research.
This resource is relevant to nurse educators, nursing students, new graduate nurses, nurses and other healthcare providers across the continuum of care, interested in integrating best practices related to mental health and addiction to ultimately support the person and their family receiving care.
Crisis Intervention for Adults Using a Trauma-Informed Approach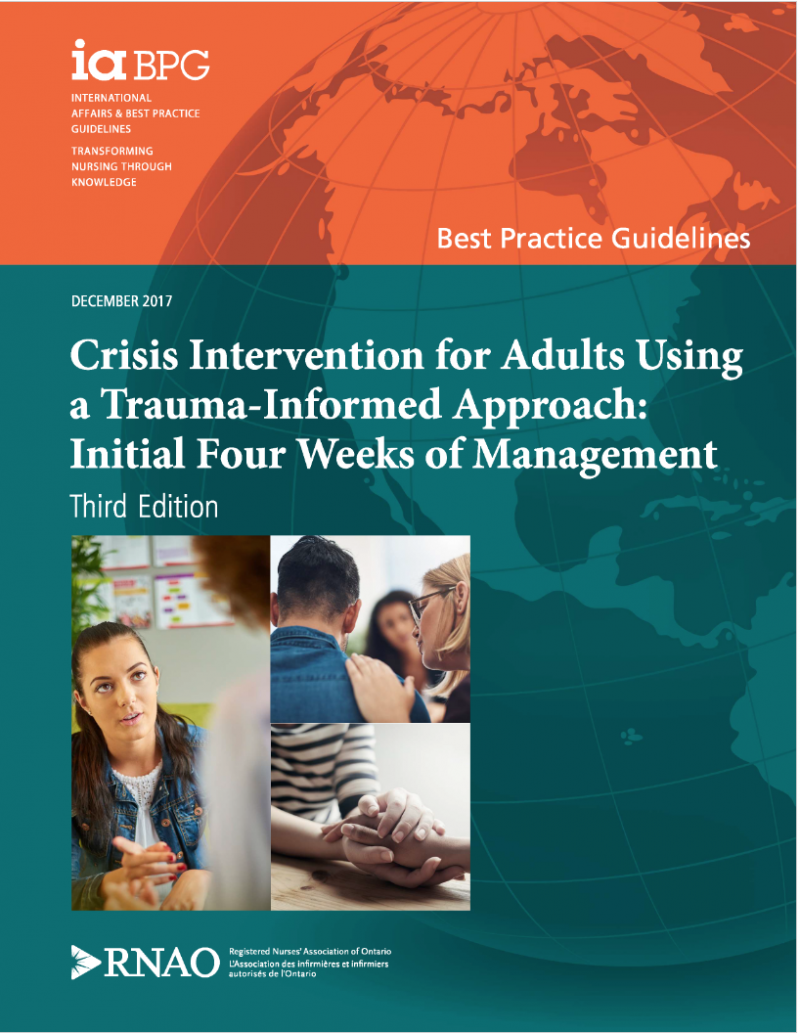 About this Guideline:
The Guideline is relevant for all domains of nursing practice (i.e., clinical practice, research, education, and policy and administration) as well as for other members of the interprofessional team across all practice settings at the unit, organization, and system levels. For the purposes of this Guideline, the interprofessional team is comprised of multiple health-care providers (regulated and unregulated), first responders (such as police officers), and peer support workers who all work collaboratively to deliver comprehensive and quality responses, care, and services to people within, between, and across health-care and community settings. The Guideline is applicable in all practice settings and promotes consistent, evidence-based response and care.
For more information, please visit: https://rnao.ca/bpg/guidelines/crisis-intervention
A Canadian organization that offers free CBT-based online resources for learning about and managing anxiety. For more info, please visit their website.
An Australian organization that offers a number of free CBT-based online workbooks for a variety of mental health concerns. For more information, visit their website.
Website designed to help those affected by obsessive-compulsive disorder (OCD) and related disorders.
An Australian web-based self-help CBT resource for depression and anxiety. Click here for more info.