Chair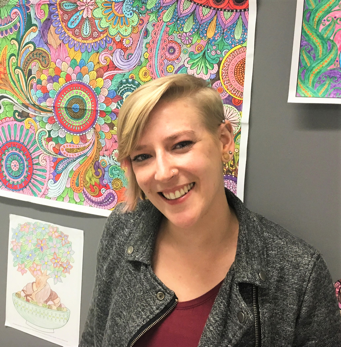 Shauna Graf graduated from Western University in 2013. She has eight years of experience at St. Joseph's Health Care in London, Ontario including roles in the Veteran's Care Program, adolescent inpatient psychiatry, and adult ambulatory psychiatric care programs. Shauna has a passion for mental health nursing including providing direct patient care, knowledge translation/staff education, and advocacy for quality improvement at a leadership level. She served as a co-chair for St. Joseph's Nursing Council from 2017-2020.
Her current role is the Project Lead for the "Zero Suicide" Initiative, implementing best practices in suicide prevention within St. Joseph's, the local community, and beyond. Shauna is committed to adapting to the needs of our population, supporting our workforce of skilled mental health nurses, and leading change in mental health care in Ontario.            
Outside of work, Shauna has two major passions- spending time outdoors- camping, hiking and taking day trips with her partner and three dogs, and music- playing guitar, song writing, and live music- she is looking forward to attending a few concerts in 2022 that have been rescheduled over the pandemic!
Chair Elect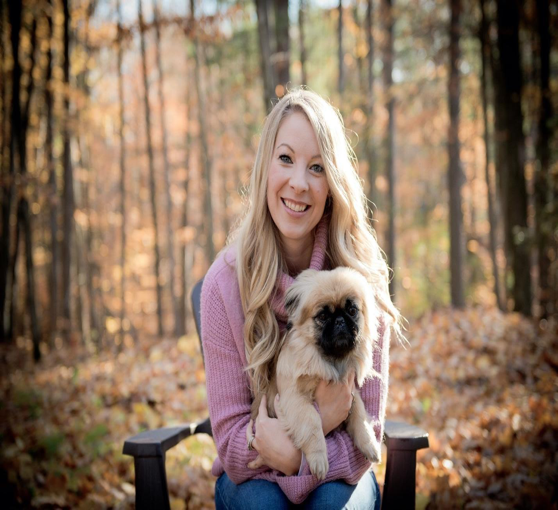 Kaitlin Marriner Brulotte began working as a health care aide in long-term care as a junior in high school, realizing her passion in mental health. Graduating with a Bachelor of Science in Nursing from Laurentian University in 2012, she continued to specialize working with people over 65, experiencing complex chronic physical, psychological and social challenges. She graduated from Yorkville University with a Master of Arts in Counselling Psychology in 2018 and started a private psychotherapy practice: KMB Counselling & Psychotherapy, which provides online therapy to people. She holds professional practice licenses with the College of Nurses of Ontario, and the College of Registered Psychotherapists of Ontario. She is currently pursuing a PhD in Integral Transpersonal Psychology. 
Kaitlin is a published author; Stepmom Survival Guide: Simple Secrets to Belonging in a Blended Family (2015) uses family systems theories to help stepparents find belonging in their blended family. Kaitlin volunteers for various organizations including Ottawa Girls Hockey Association; Registered Nurses Association of Ontario; Canadian Counselling and Psychotherapy Association; the Women's Mental Health Foundation (Royal Ottawa Hospital); and the Canadian Nurses Foundation. She lives in Chelsea, QC with her husband, two stepdaughters and 3 dogs. 
Communications Executive Network Officer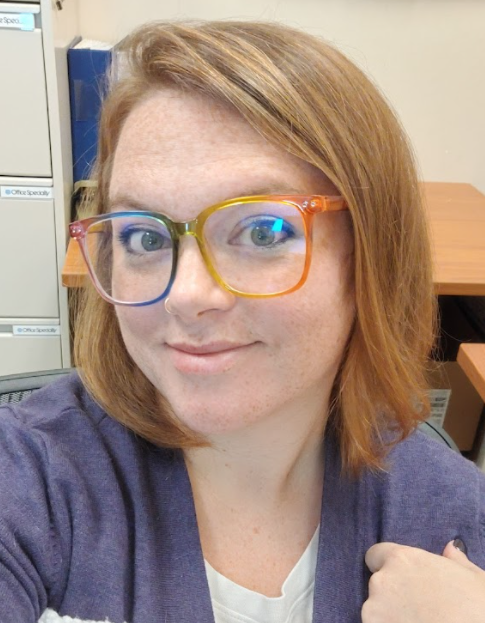 Joan Denley graduated from the Collaborative Bachelor of Science in Nursing program at Sault College in 2015. During nursing school, she was an active member of many nursing organizations and activities. She served in the role of secretary for her class's BScN Student Chapter. She was a student member of RNAO and attended the AGMs in Toronto. She was also very involved with the Canadian Nursing Student Association (CNSA), serving as an associate delegate representing Sault College at CNSA activities and conferences. In addition, during 2013, she was the director of the planning committee for the CNSA Ontario Regional Conference which was hosted at Sault College. The CNSA Conference Planning Committee, under her leadership, won the Regional Excellence award at the CNSA National Conference that year. Following that success, she was elected to the CNSA Board of Directors for 2014/2015 as the Director of Career and Leadership Development. 
After graduation, she began her nursing career in long-term care, and then transitioned to Sault Area Hospital, working in inpatient Mental Health and Additions in March of 2016. In 2019, it was announced that the hospital would be transitioning to an updated version of our EMR as part of a Regional initiative they have called the "ONE Project '', which stands for Ontario North East Project. The objective of the project is to have a single EMR system that is used by health institutions in the region to support the seamless portability of patient health records, regardless of where a patient may go to seek care. During this transition phase, she volunteered to be trained as a "Super User'' for the system, which allowed me to provide "at the elbow" support to my colleagues and peers during training and after "go live". 
In 2020, she transitioned away from bedside nursing and into the role of MDS Assessment RN. Currently, her scope of work includes: the collection and management of patient data using the RAI MDS-MH tool; submission of the data to the Canadian Institute for Health Information (CIHI); and analysis of quarterly comparative reports from CIHI for quality improvement and transformation. In 2021, she successfully obtained CNA Certification in Psychiatric and Mental Health Nursing. 
When not at work, Joan enjoys watching movies and anime with her partner Jordan, biking and cross country skijoring with her dogs Tuck and Auggie, cuddling her cats Leon and Lilith, and crocheting with her ball python Lindie. She is an avid gamer, spending time playing Animal Crossing New Horizons, New World and Destiny 2, and joining friends for board game nights on the weekends. She also plays Dungeons and Dragons 5e, and her current group has been playing together, twice a week, for over four years. 
CFMHN Ontario Representative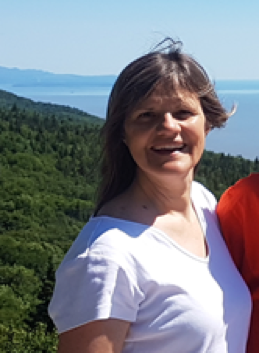 Carmen Hust is a full-time nursing professor at Algonquin College. She obtained her BScN at Université de Montréal, her MScN at Villanova University in Pennsylvania and Ph.D. from the University of Ottawa. Carmen teaches her passion for Mental Health and wellbeing. She has learned much from students with mental health concerns about stigma, stresses and the threat of corporatization of post-secondary education on student mental wellbeing. Through her research, she has come to appreciate how students with mental health concerns understand recovery. Carmen is committed to giving voice to the student experience, developing curricula that foster mental wellbeing and advocating for the mental wellbeing of all students. She sits on the board of the Canadian Federation of Mental Health Nurses as the Ontario representative. She serves as the Chair of the CFMHN Education Committee. Carmen describes herself as a perpetual student in hope of finding ways to foster human wellbeing. She is currently developing additional knowledge and skills in psychotherapy to serve those with mental health concerns and to enhance nursing studies and practice. Carmen is also an accidental activist and cautious agitator for the common good who is involved with environmental and workplace psychological safety initiatives.
Outside the professional sphere, Carmen has an appreciation for the role of spirituality and nature in wellbeing. Along with her husband, Carmen strives to live sustainability on a small hobby farm where they raised their three daughters.
Finance Officer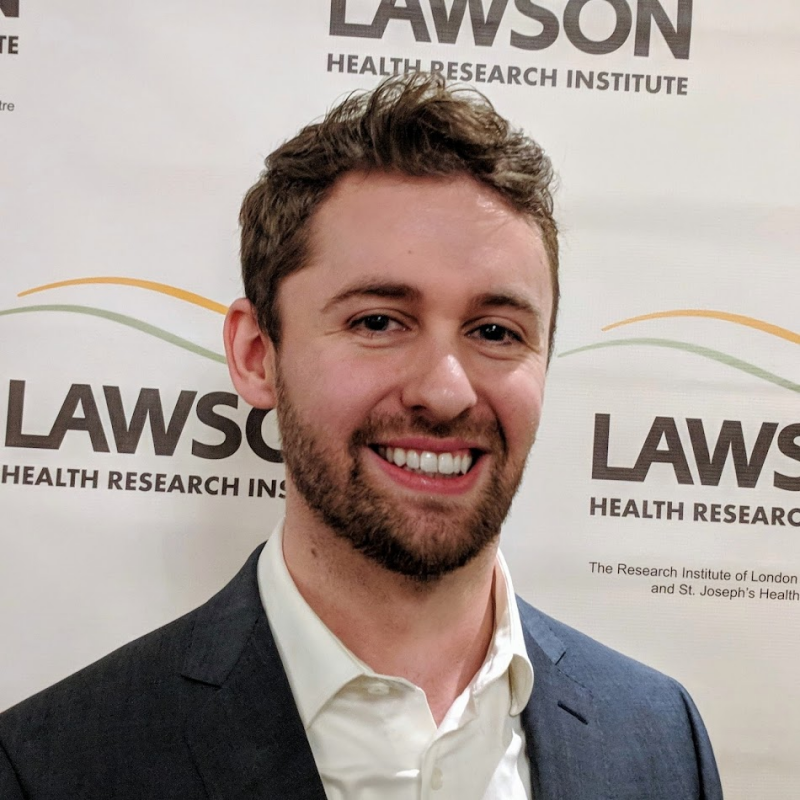 Andrew completed his BScN at McMaster University, his MN at Western University, and is currently completing an MBA at the Royal Military College of Canada. He has spent almost a decade working in a variety of clinical mental health nursing roles including as a frontline RN, a nurse educator, and an after hours supervisor. He has taught mental health nursing at Niagara College, Mohawk College, and Nipissing University, as well as healthcare management at Fanshawe College. He is currently the Manager of the Cowan Health Sciences Center at Conestoga College, leading their simulation based training programs for nursing and other healthcare programs.
Andrew is passionate about education, policy design, and prevention of violence in the workplace.
Membership and Education Executive Network Officer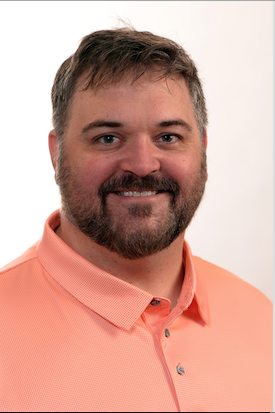 Aaron has been working as a registered nurse in Mental Health for over 20 years. Aaron has dedicated his career to working with marginalized people. He is currently employed at St. Josephs Health Care London on the urban Assertive Community Treatment Team (ACT) and the Community Outreach and Support Team (COAST). He is the MHNIG Immediate Past Chair and is also one of MHNIG's Membership and Education Officers.
Social Media Executive Network Officer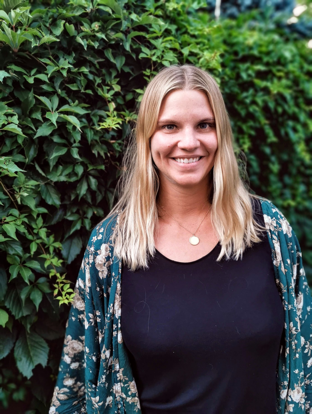 Natalie discovered her passion for mental health when she worked on an inpatient mental health unit at the Montfort Hospital upon graduating in 2010. She later moved to work with Ottawa's Mental Health Crisis Team. This led her to further pursue her education and she is currently working toward a Master of Psychiatric Nursing from Brandon University. Natalie holds a position as a professional practice leader at the Royal Ottawa Mental Health Centre and most recently worked as the nursing lead to implement the organization's new electronic health record system in Collaboration with Ontario Shores and Waypoint. Natalie is currently on maternity leave enjoying the wonderful company of her first child.
Natalie strives to leverage her competencies as a tech savvy nursing leader to engage members through social media and promote awareness, recognition and a positive image of mental health nurses.
Policy and Political Action Executive Network Officer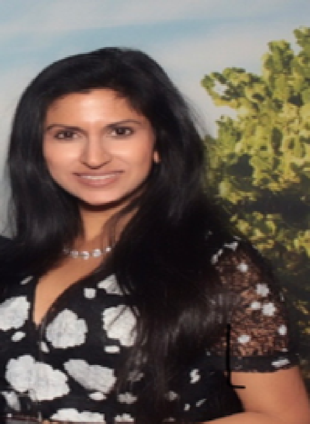 Archna's career pathway began with her interest in the field of Neurosciences. She completed her BSc in Neurosciences at the University of Western Ontario and worked as a child therapist and research assistant after her graduation. Archna felt drawn to nursing and so she pursued her second degree at Ryerson University. She has been a practicing nurse for the past fifteen years with experience in pediatric nursing and mental health and addictions. Her affiliation with nursing associations, ONA central and local community groups instilled a desire to address human rights, diversity, and equity issues within the nursing profession and the health care delivery system. 
Archna joined the MHNIG executive in 2005 until 2011. She took a brief leave of absence to live in the Himalayan mountains for several months to study and practice the ancient eastern philosophies of yoga and meditation. She was fortunate to study the philosophies attached to yoga with a world-renowned Guru in the Himalayan mountains. She rejoined the MHNIG executive in 2015 to present serving in various roles and is currently one of our Policy and Political Action Executive Network Officer. 
As a nurse, she incorporates her training and studies in trauma-informed care, psychotherapy, meditation, mindfulness, and yoga to those who struggle with movement disorders, pain, anxiety, depression, and PTSD. 
Archna completed her Masters in Nursing at the University of Toronto in 2016 and is currently employed as a Clinical Practice Leader at Humber River Hospital. Archna is motivated by her nursing goals of integrating holistic practices in building, helping, and healing the communities she serves. 
Her passions exist in helping empower others in reaching their full potential, discovering their true nature, and finding their joy in everyday life.
Policy and Political Action Executive Network Officer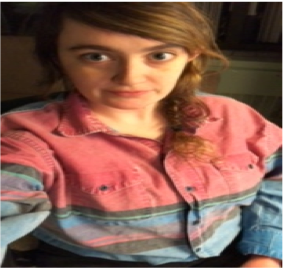 Sophia Coulter-English is a graduate of Nipissing University with a background in inpatient, community and emergency psychiatric care. She is passionate about harm reduction and is extremely fortunate to be part of one of Ontario's revolutionary Safer Opioid Supply programs.
The COVID-19 pandemic has exacerbated the disparities faced by marginalized groups in Ontario. Through her role as policy and political action executive officer, Sophia hopes to advocate for better services and supports for these groups.
Student Representative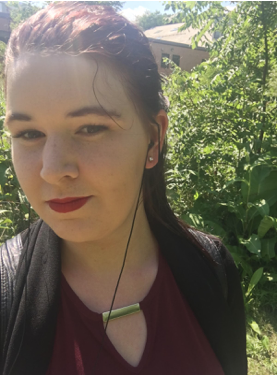 My name is Reilly and I am one of the student liaisons for the MHNIG. For many years, I have been extremely passionate about mental health nursing. I am currently a student at the University of Ottawa in the Bachelor of Science in Nursing program. At my university, I am part of the executive team of a club called Beating Burnout, this club aims to promote positive mental health in nursing students. When I am not working on my degree, I am taking courses to complete an Addiction and Mental Health graduate certificate with Algonquin College. 
I have also been working at Ontario Addiction Treatment Centres for three and a half years, part of that as a support staff and part of that as an RPN. Hearing the stories of how clients have been able to overcome mental health challenges has made my passion for mental health nursing grow. 
For many years I have felt that the place I could make the most change and help clients the most was in mental health. I want to play a bigger role in mental health nursing across the province through education and advocacy, being part of the MHNIG will allow me to start that process. 
Immediate Past Chair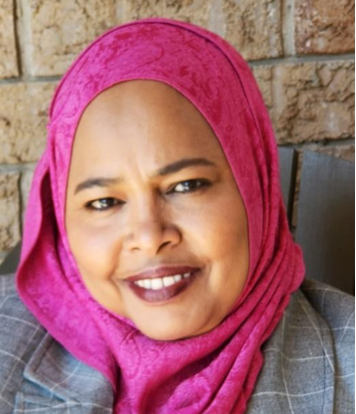 Hoodo Abdi Ibrahim obtained her Ontario high school diploma from St. Charles adult school. She received a personal support worker (PSW) certificate and registered practical nursing (RPN) diploma from Mohawk College. She obtained a Bachelor of Science in Nursing (BScN) from McMaster University and a Master of Science in Nursing with a Family Nurse Practitioner degree from D'Youville College in Buffalo New York. Hoodo is a Board-certified Family Nurse Practitioner with the American Nurses Credentialing Center (ANCC). She is a Certified Psychiatric and Mental Health Nurse through the Canadian Nurses Association (CNA). Hoodo holds Addiction Medicine certification from the Centre for Addiction and Mental Health (CAMH)/the University of Toronto.
Hoodo currently holds a full-time nurse practitioner position at St. Joseph's Healthcare Hamilton in the Schizophrenia Outpatient clinic and RN in the Acquired Brain Injury Program at Hamilton Health Sciences. Hoodo's Past experiences include: Partial Load Clinical Faculty in the Department of Nursing at Mohawk College of Applied Art and Technology; NP positions in RAAM clinics at the Peel-Dufferin Canadian Mental Health Association and Good Shepherd Homes/ Shelter Health Network. Hoodo previously held RNAO- Mental Health Nursing Interest Group (MHNIG) policy and political action chief officer, and Nurse Practitioner Interest Group (NPIG) communication/media ENO. Currently, Hoodo is the chair of the RNAO-MHNIG; a member of the RNAO-NP Task Force; St. Joseph's Nursing Advisory Council; the Advanced Practice Nursing Council and St. Joseph's Equity, Diversity, and Inclusion Council.    
Hoodo dedicated much of her nursing career supporting and advocating for marginalized populations including individuals with mental illness and addiction. She is passionate about promoting evidence-driven knowledge transition, individual capacity building, social justice, and stigma-free healthcare services for all.