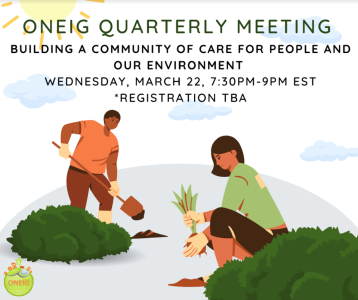 Join us for an opportunity to share your vision for ONEIG with the launch of our new member survey, get updates from the ONEIG executive, speak about the issues on your mind, and ground yourself with a shared mindfulness exercise led by our co-chair, Josalyn Radcliffe.  REGISTER NOW!
And while you're here: ONEIG and RNAO has been working with CAPE-ON on the campaign 'Fossil Fuel Ads Make Us Sick', the campaign just launched a new action to speak out against the sponsorship of Winterlude by Enbridge, the natural gas company. Read more and support the campaign here! 
We also have a NEW initiative to bring our collective voices together ahead of Earth Day 2023. 
Check out this video by our student liaison Emma and connect with us via email oneigrnao@gmail.com or social media to add your voice! 
Thank you to all of you for your support! We hope to see you on the 22nd (drop-in for as much time as you have)! 
In solidarity,
Your ONEIG executive