Cost of Interest Group: $20 for RN/NP and FREE for student members of RNAO 2022-2023 membership year! 
ONEIG represents RNs in Ontario who wish to work together, towards improving environmental health. Our objectives include engaging, educating (in the most broad sense) and empowering RNs to take actions as individuals, partners, and in communities, with ongoing support from membership in ONEIG.
Environmental health issues are ecological and global. Nurses in Ontario must organize together as a group, to have a more effective venue with which to participate and influence all levels of government, including nationally and internationally.
Environmental health may not be a part of the RN's job description, or outlined in the duties and responsibilities for employment. Incorporation of environmental health issues into the nursing scope of practice is an emerging issue. RNs would benefit from having a forum for open discussion, and debate, to better understand the opportunities for environmental health in the delivery of nursing interventions.
Mission
To illuminate the link between the environment and health, and to promote healthy sustainable environments through nursing leadership.
Quarterly Meeting Flyer: March 22nd from 730-9pm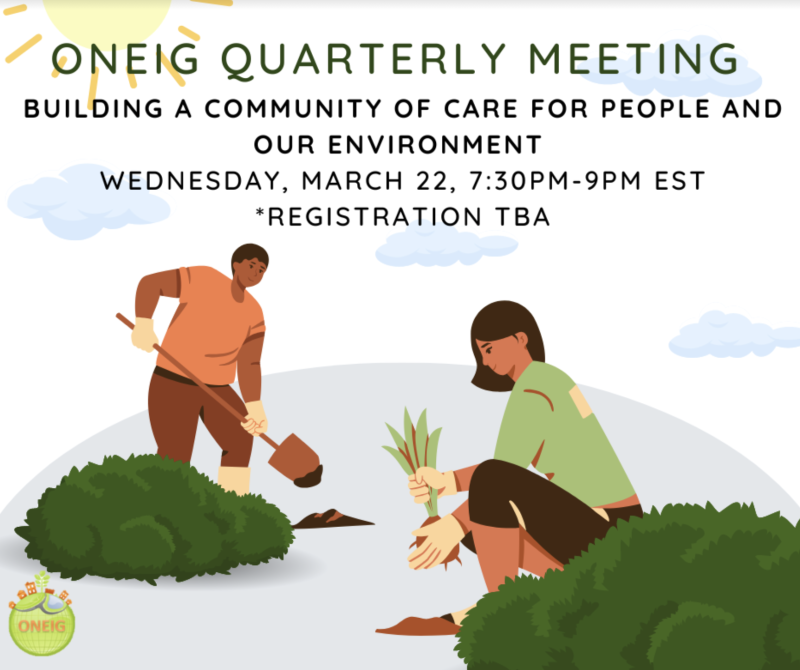 Ontario Nurses for the Environment Interest Group
Join us for an opportunity to share your vision for ONEIG with the launch of our new member survey, get updates from the ONEIG executive, speak about the issues on your mind, and ground yourself with a shared mindfulness exercise led by our co-chair, Josalyn Radcliffe.  REGISTER NOW!
And while you're here: ONEIG and RNAO has been working with CAPE-ON on the campaign 'Fossil Fuel Ads Make Us Sick', the campaign just launched a new action to speak out against the sponsorship of Winterlude by Enbridge, the natural gas company. Read more and support the campaign here! 
We also have a NEW initiative to bring our collective voices together ahead of Earth Day 2023. 
Check out this video by our student liaison Emma and connect with us via email oneigrnao@gmail.com or social media to add your voice! 
Thank you to all of you for your support! We hope to see you on the 22nd (drop-in for as much time as you have)! 
In solidarity,
Your ONEIG executive 
This post has attached images. Access them from the full post link below.
See the full post in the following link: https://chapters-igs.rnao.ca/interestgroup/36/email/3350.
Climate Change and Mental Health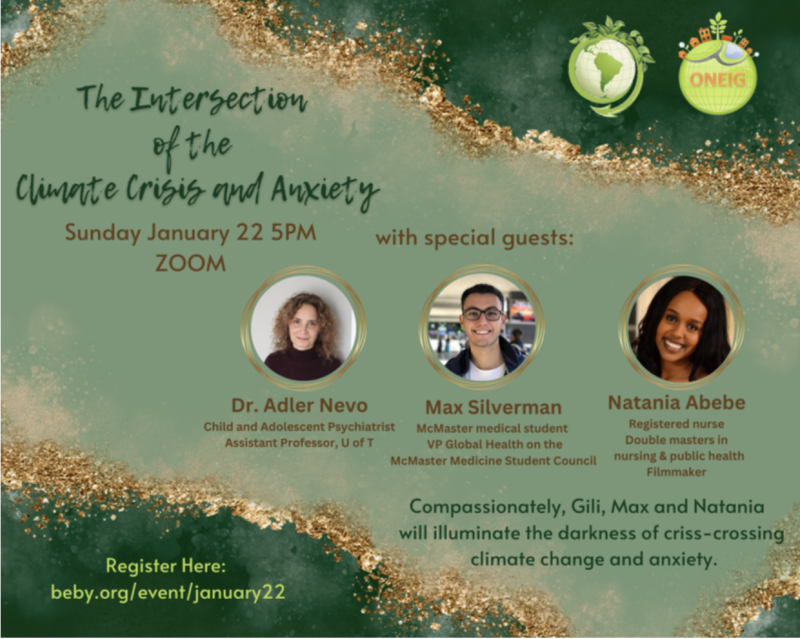 On January 22nd at 5pm, ONEIG will be collaborating to host a webinar on eco-anxiety and eco-grief.
This session will be lead by Dr. Gili Adler Nevo (Head of Child & Adolescent Anxiety Clinic at Michael Garron Hospital), medical student Max Silverman engaged in Global Health, and RN Natania Abebe, UBC grad student completing a dual master's degree in Public Health and Nursing who recently completed a film on climate change and mental health.  
Reach out to oneigrnao@gmail.com with any questions or suggestions for future events (and if you'd like to be a part of planning a campaign or event!). 
1 min ONEIG 2022 in review
Hands off the Greenbelt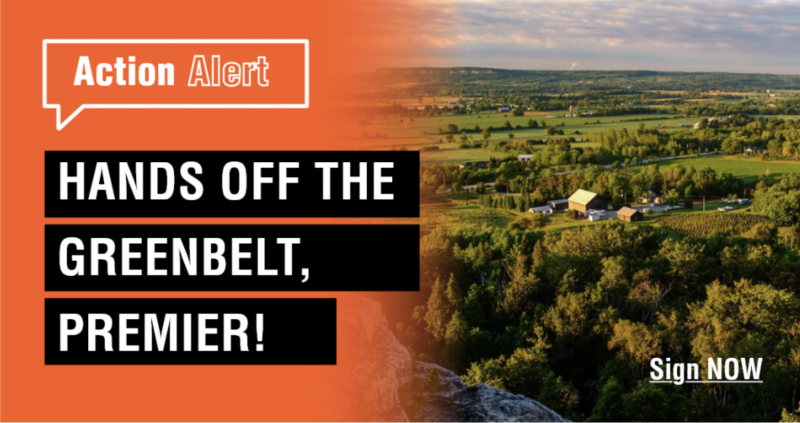 In fall 2022, ONEIG and RNAO staff worked together to respond to bill 23, guided by evidence presented by experts in housing, environment, and planning. We put together an Action Alert asking the government to keep 'Hands Off the Greenbelt" and withdraw/repeal bill 23 and submitted an official response to the committee responsible for public consultation. The ONEIG executive and members have continued to advocate through multiple channels and partnerships.
Flyer: ONEIG quarterly meeting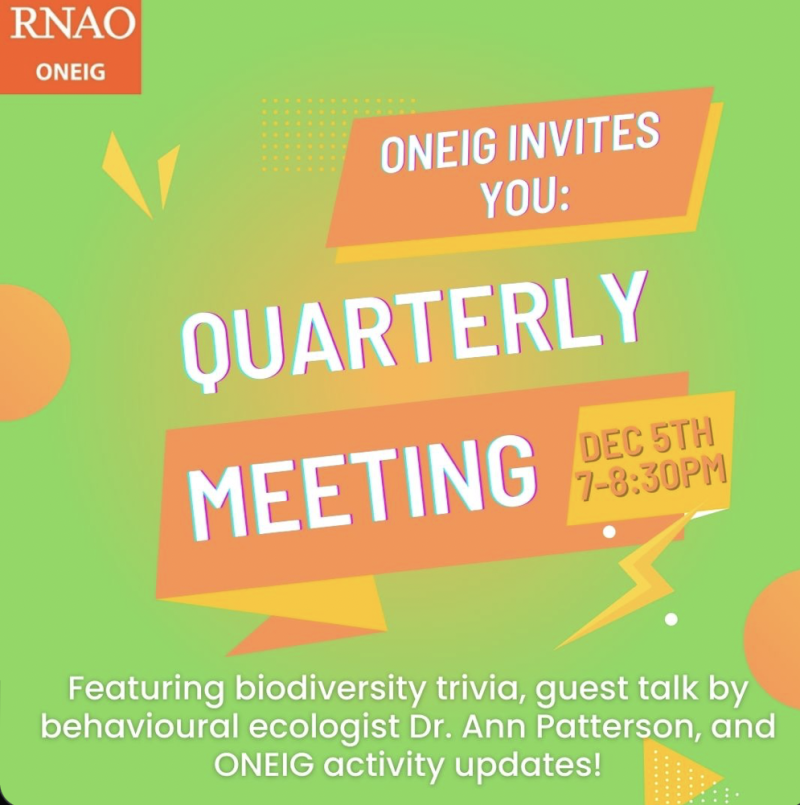 ONEIG Quarterly meeting video now live!
If you missed our latest meeting and Dr. Patterson's talk on biodiversity- you can see it here now! 
While you're there, subscribe to our channel! 
Note: we had a few technical difficulties, apologies for this! Even with practice, sometimes the unexpected happens. 
2022 AGM: Time to talk Nursing, Food, and Ecology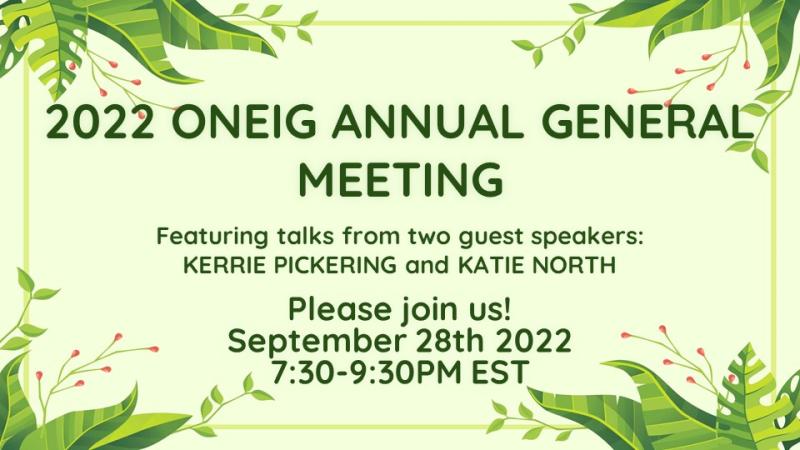 Are you Emergency Prepared?