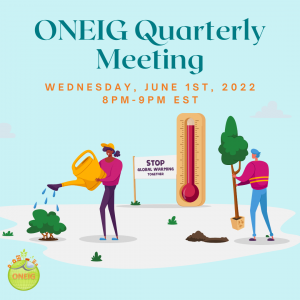 We hope you're enjoying the warm weather and sunny days!
Our next quarterly meeting will take place on Wednesday, June 1st, 2022, from 8PM-9PM EST (registration info below); we would love to have you there! At this meeting, we'll reflect on our recent work, congratulate new/returning executive members, plan initiatives related to environmental health, and have a discussion on RNAO's resolutions for the upcoming Annual General Meeting this June. We'd also love to hear your ideas for the future of ONEIG; any comments, feedback, or suggestions are always welcome! This will be a short but sweet meeting but will include opportunities to get involved and stay connected.
Register NOW for our quarterly meeting.
News and Updates
Recent Event: Rally for Climate, Communities and Nature! On Saturday, May 14th, hundreds of people got together at Queen's Park in Toronto to advocate for climate protection and building sustainable communities. This event helped send a strong message to our government to take climate change seriously and act now before it's too late. With the provincial election coming up on June 2nd, we strongly urge you to take environmental health into consideration and make a choice that will benefit our climate, wildlife, and our well-being for many years to come.
Sprawl in Ontario
Many regions are organizing to address updates to regional plans that could open current farmland, wetlands, and other greenspaces to development. Take a look at some of the regional Twitter accounts below to learn more and consider advocating for protecting these spaces that are critical to clean air and water, food production, and biodiversity:
Stop Sprawl York Region Stop Sprawl Peel Stop Sprawl Oxford
Stop Sprawl Halton
Hold the Line Waterloo Region
Stop Sprawl Durham 
If you aren't able to make it to the quarterly meeting or have any thoughts, questions, or concerns, you are always welcome to email us at oneigrnao@gmail.com! We'd love to hear from you, even if it's just to say hi! 
Thank you all and we're looking forward to seeing you on June 1st! 
With warmest regards,
ONEIG Executive Team