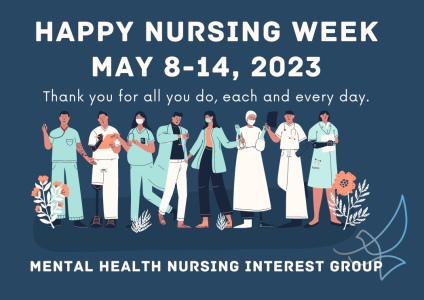 Dear members,
Your executive team for the Mental Health Nursing Interest Group wishes to extend its gratitude for your excellence. We're writing to acknowledgement the obstacles and profound challenges faced by nurses each day, and send you best wishes for a bright future to help you celebrate Nursing Week 2023.  
Nurses are the backbone of Ontario's health system and form the largest body of registered health professionals. As direct care providers, administrators, educators, researchers and policy makers, we work together in various roles, sectors and settings to contribute to healthy populations.
RNAO thanks each and every nurse – always, and especially during Nursing Week. As an association, we remain on guard and on duty to support the public and each nurse during and after the pandemic. We acknowledge every nurse for your contribution and unwavering commitment to Ontarians and to our profession. Together, we will continue to advocate for competitive compensation, safe workloads, healthy work environments, education and role advancement – for current and future generations. 
Please take time this Nursing Week to reflect on your experiences, challenges, and triumphs over the past year. Remember that you are not alone, and we will continue to support and celebrate one another. You give us the strength to continue doing our best, and we are proud to represent such an amazing membership. Thank you for all you do, every day!
- Your MHNIG executive team