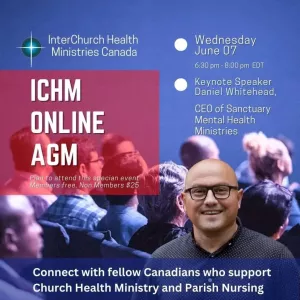 Hello members,
We received the following information about an upcoming opportunity the RNAO Faith Community Nursing Interest Group:
InterChurch Health Ministries Canada will be holding their annual general meeting (AGM), and is pleased to have Daniel Whitehead, CEO of Sanctuary Mental Health Ministries as its keynote speaker.
Date and time: Wednesday, June 7, 2023 at 6:30 pm
Location: Online (Zoom)
Daniel spearheads the movement to equip churches to support mental health and wellbeing in their community. Daniel's other roles include: adjunct faculty at Regent College; member of the International Initiative for Mental Health Leadership; committee member on the International Network on Theology and Mental Health; and member of the advisory group for the Centre of Spirituality, Health and Disability. Previously, he spent 10 years in full-time vocational ministry, serving as senior pastor of a church for eight years. Daniel hails from the U.K., but now resides in Vancouver, BC. He is married to Annie and has two young children. He is also a certified mediator and a double theology graduate of Regent College (MA 2017, ThM 2021). 
The ICHM AGM will also feature a time for worship, fellowship, and review of officer reports and current projects.
Complete your registration for the 2023 ICHM AGM. You will receive a meeting link to join the meeting closer to the date of the event. 
Community member registration is free. Guests are welcome to attend but are asked to make a $25  donation. All donations will receive a charitable tax receipt. 
For more information, please contact us at info@ichm.ca