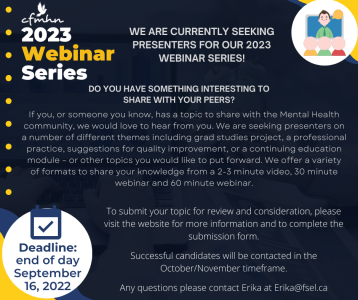 Hello members,
Do you or someone you know have a topic related to mental health that you would like to share with your peers? Want to work on your presentation skills and share knowledge with fellow health-care practitioners?
CFMHN wants to hear from you! They are seeking presenters for the 2023 CFMHN webinar series. Check out the CFMHN Submission Site for more details. 
All submissions must be completed by Sept. 16, 2022 end of business day. Incomplete submissions will not be considered. 
Successful candidates will be contacted in October or November.
If you have any questions please contact Erika at Erika@fsel.ca
Looking forward to seeing your education offerings in the upcoming year!