Bea Osome Retired Staff Nurse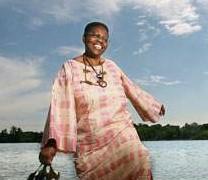 Bea moved to Canada from Kenya in 1971, leaving behind a large family in a small village near Kiritu, an hour's flight from Nairobi — or a dozen hours for those willing to drive the cratered roads. Like thousands of villages in sub-Saharan Africa, the community had no clean water — at least not until Osome raised money to build one for the dozen or so families in her mother's neighbourhood. When that well was completed, Osome built another for the 3,000 residents of Kiritu to share. "We need to build more," she says. 
The efforts may be drop in the bucket, but not for water carriers who previously hiked two kilometres or more to fetch contaminated water. "There's so much disease you can prevent with clean water," Osome explains. "Typhoid, cholera and malaria."Osome's sister died of typhoid, as did her sister's three-month-old baby. "Many babies die because there is no clean water," she says. "Even AIDS patients are a lot easier to manage if you have access to clean water. " Excerpt from the Ottawa Citizen" 
Bea Osome reported to SNIG on her most recent trip to Kenya to work on providing more wells for villages in her home country. Bea is a  a retired nurse who has a goal of clean water for all.  Her most recent project is a well for the Madzou Primary School in Kenya to provide the students and the surrounding community with clean water. Digging the well required dynamite at times and required close supervision of the work force. The school will be responsible for well upkeep and will collect small payments from community users taking water for a fund to pay for vitally important ongoing maintenance. 
To honour her late daughters wishes Bea is now completing her 18th well. Quite an accomplishment!
SNIG has donated money to Bea's efforts for the past several years and has one well named for the Staff Nurse Interest Group!  The children have sent back hand written thank you notes from each student of the school and have sent back many lovely hand made presents which we cherish. The delight on their faces as clean water pours out of the spout is really heart warming.
The Children's Gifts to SNIG!