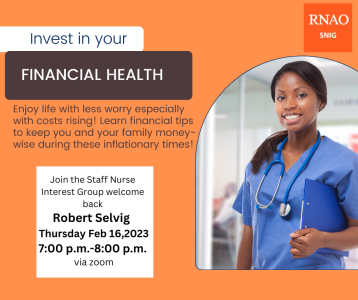 Happy new year to all staff nurses! 
Enjoy life with less worry especially with costs rising! Learn financial tips to keep you and your family wise about money during these inflationary times!
All prices seem to be rising and more people are living paycheck to paycheck trying to make ends meet. But, rather than continually stress about this:
Join the Staff Nurse Interest Group (SNIG) via zoom in welcoming back Robert Selvig. He will join us once again this year to provide helpful advice and tips on financial stability. 
Zoom session: Invest in Your Financial Health
Date and time: Thursday, Feb. 16, 2023, 7 – 8 p.m.   
Register here: https ://myrnao.ca/civicrm/event/info?reset=1&id=1358
Looking forward to seeing you there!
SNIG executive