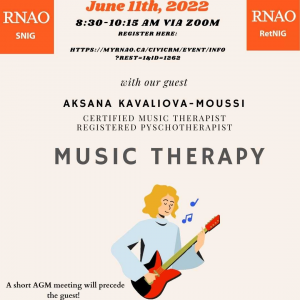 Join SNIG and RetNIG via Zoom for our annual AGM as we welcome Aksana Kaviola-Moussi a Registered Music Therapist and a Registered Psychotherapist who will show us the Importance of Music in Healthcare and our Well Being in Stressful Times!
During these Covid times the Staff Nurse Interest Group and the Retired Nurse Interest Group realize that Nurses are at their wits end with staffing shortages and a Pandemic that continues with no clear sight on the horizon. Stresses the retired and all are seeing, are increasing gas and food prices, a lack of affordable housing and a war that makes us question our future. 
Join us Saturday June 11th  via Zoom  from 08:30 am  - 10:15am  to listen to Askana Kavaliova-Moussi , a Certified Musical Therapist and Registered Psychotherapist  who will show us musically, how music can help ,not only in the  healthcare environment,  but, can soothe our stressed lives during uncertain times, 
We will have a very short business meeting prior to Aksana starting.