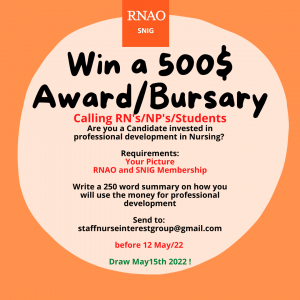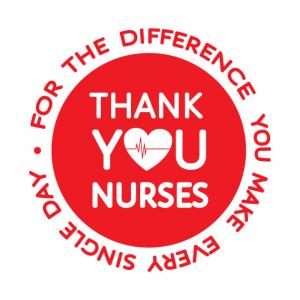 Calling all RNs, NPs and students!
Upcoming elections for SNIG are for the policy and political action and social media roles. If one of these is the right fit for you, please contact us at staffnurseinterestgroup@gmail.com. Mentorship comes with each position. There is a commitment to a brief monthly meeting via Zoom and a yearly planning meeting. The executive would love to have you on board! Learn more about your professional organization and pad your resume with board experience. 
This year's Nursing Week will take place May 9- 15. This year we are again offering a $500 award/bursary for professional development through social media. If interested please apply. See the attached poster for details.
Also we will feature RNs, students and NPs  who have shown leadership and positivity on social media during the pandemic. If you know someone who fits the criteria - or if you're one yourself - send a photo and brief bio to staffnurseinterestgroup@gmail.com. We will feature one nurse each day.
We had a winner for our bursary through RNFOO . Congratulations to Brittany Paquin an aboriginal student at Nipissing University who is in her final semester of the RPN to BSCN  bridging program and who is looking to pursue a Master of Science in Nursing Degree with a long term goal of teaching.
Our SNIG AGM is coming up on June 11th . Please Save the date. More information to follow.
At this time we want to send our heartfelt thanks to all staff nurses!
Remember self care! Stay safe and healthy ! And cherish your family and friends!  
Happy spring!
SNIG Executive