Cost of interest group: $15
Website: https://chapters-igs.rnao.ca/interestgroup/6/about     http://cns-ontario.rnao.ca
Facebook: Like us!
Instagram: https://instagram.com/cns_ontario?igshid=YmMyMTA2M2Y=
Twitter: https://twitter.com/cns_ontario/status/1519437359045124096?s=21&t=oWhFFkS0NkwwYp4zlgvh2g
Please note:  if you "login" to "MyRNAO", you will have access to way more information about us - CNS-ON. 
===========================
By renewing your membership….
 
click here to renew or to join RNAO / CNS-ON
=========================== 
CNS-ON.  Educational Event. December 2023
Thursday, December 7, 2023 on zoom. 
if you renewed your CNS-ON membership, you will be invited to attend our meeting. Check your email…in Nov.
Guest:   Dr. Karima Velji, RN, PhD.  CNO, MoH ontario.
Check our Event section here
=============
The Clinical Nurse Specialist Association supports CNS practice in Ontario. We provide networking opportunities and educational programming for members.
Among the goals of the association is the clarification and promotion of the role of CNS within the nursing profession and among other health-care professionals, health-care employers, consumers and policy makers.
The Clinical Nurse Specialist Association of Ontario supports the publication of research and coordinates regional activities. Membership benefits include: educational initiatives, a newsletter addressing such issues as group updates, joint activities with RNAO, unionization, conference notices and calls for abstracts and masters/doctoral program descriptions.
Membership is open to practicing members, those who are RNAO members and are currently in an advanced nursing practice role, and Affiliate members, those who are RNAO members and have a commitment to advanced nursing practice.
We work in collaboration with the CNS Association of Canada. 
For more information, please contact:
CNS-ON President: Paul-André Gauthier, RN, CNS; PhD (nursing)
Executive Network Officers (ENO): 2023-2025
Director of Finance: Rashmy Lobo.
Director of Policy and Political Action: Jennifer Anderson
Director of Communication & Secretary: Kadeen Briscoe
Director of Membership & Services: Emily Fung
Director of Research & Education:  Elsabeth Jensen
ENO Workplace Liaison: Robin Coatsworth Puspoky.
ENO Social Media: Team.  Paul-André G. & Laura F. 
Graduate Nursing Student Representative: Laura Freeman.
CNS-ON Executive list for 2023-2025
Our Website: http://cns-ontario.rnao.ca  here 
To become a CNS-ON member: If you are already an RNAO member and wish to add the Clinical Nurse Specialist Association of Ontario to your membership, please contact RNAO at 1-800-268-7199 (toll-free) or 416-599-1925.
Our Facebook: www.facebook.com/Clinical-Nurse-Specialists-Association-of-Ontario-Canada-113210988761198/
Instagram: https://instagram.com/cns_ontario?igshid=YmMyMTA2M2Y=
Twitter: https://twitter.com/cns_ontario/status/1519437359045124096?s=21&t=oWhFFkS0NkwwYp4zlgvh2g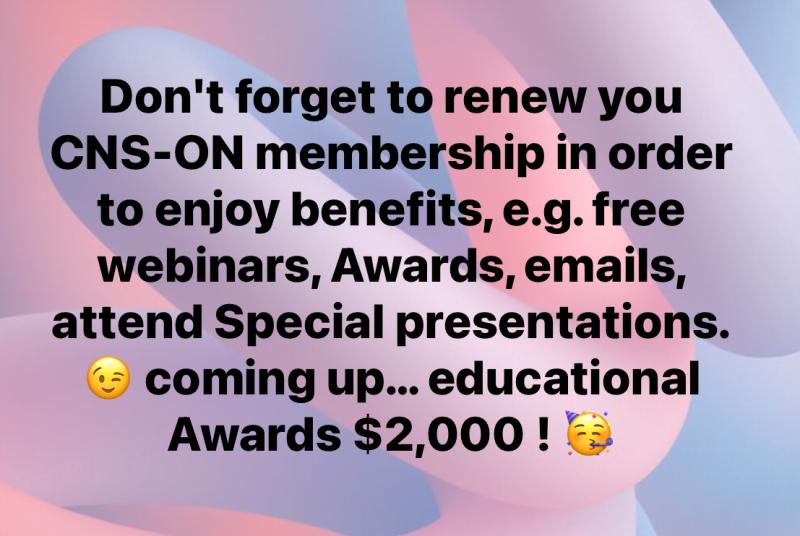 Poster Dec 7