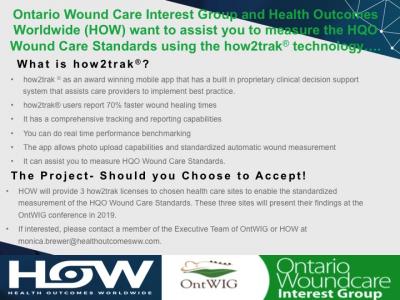 Just 5 days left until the early bird pricing for the 2018 OntWIG symposium expires and regular pricing comes into effect!   On that note, OntWIG is happy to announce that one of our long-time supporters,
Health Outcomes World Wide (HOW)
is offering 3 health care sites who attend the symposium a FREE trial of their newly updated software with the integrated wound standards recently proposed by HQO. Talk about partnership! All registrants are automatically entered for a chance to WIN! Don't miss out on this amazing partnership and opportunity! (More information attached).
Early Bird until March 20th:
$150 Member
$200 Non-member
After March 20:
$200 Member
$250 Non-Member
To register for the symposium: https://ontwig.ca/8th-annual-symposium/
If you have any questions, please don't hesitate to contact us: ontwig@gmail.com
For full details including agenda and speaker bios: OntWIG 2018 Symposium Agenda