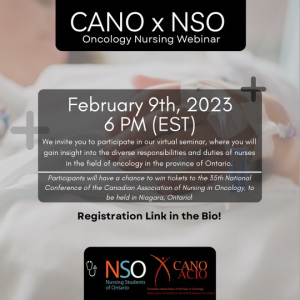 Hi all Nursing Students,
Don't miss out! Join us on Feb 9th at 6:30pm EST for our Oncology Nursing Specialty Webinar with the Nursing Students of Ontario (NSO) & Canadian Association of Nurses in Oncology (CANO). Connect with top nurses in the field and enter to win tickets to the 2023 National CANO Conference in Niagara Ontario! 
Please register using this link: https://us06web.zoom.us/meeting/register/tZwtdOmqrj0qGdCl_EwZxlwtkjWBNg-L6WhC
We look forward to seeing you there! 
If you have any questions let us know. 
Thank you, 
NSO Executives