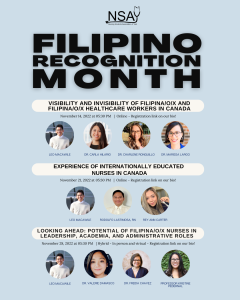 York University's Nursing Student Association will be holding 3 virtual events throughout the month of November to celebrate and recognize Filipino Nurses in Canada. These events are Filipino-focused but NOT Filipino-exclusive! Everyone is welcome! You can find the registration links below. 
Filipino Nurses Recognition Month 
Filipina/o/x/ are one of Canada's largest visible minority groups, and each year, the rate of immigration into the country continues to increase. According to the 2010 Statistics Canada report, the Philippines was the number one source of immigrants, surpassing both India and China, which usually rank first due to their large populations. Despite the growing presence of Filipina/o/x/  in Canada and their unwavering contributions to the economy, especially in healthcare,  Filipina/o/x/  remain disturbingly underrepresented in higher education, administrative, leadership, and academic spaces. The Filipino Recognition Month is a one-month-long event that celebrates the rich Filipina/o/x cultures, people, histories and traditions. This initiative will explore the unique challenges that Filipina/o/x and Filipina/o/x healthcare workers face daily. This initiative aims to start many eye-opening conversations and long-overdue recognition of the unparalleled contribution of Filipina/o/x healthcare workers in Canada. 
When: November 14, 2022, at 5:30 pm 
Topic: Visibility and invisibility of Filipina/o/x and Filipina/o/x healthcare workers in Canada. 
Where: Online ( Register in advance for this meeting:)
https://yorku.zoom.us/meeting/register/tJEscumqqzkpEtZWqHPe1a0wGLNN4qYthjXJ  
Guest Speakers: Dr. Carla Hilario (Professor at the University of British Columbia-Okanagan), Dr. Charlene Ronquillo (Professor at the University of British Columbia) and  Dr. Marissa Largo (Professor at York University)
When: November 21, 2022, at 5:30 pm 
Where: Online (Register in advance for this meeting:)
https://yorku.zoom.us/meeting/register/tJwtc-ygrzwpE904OEz8f-oZIZX-VbiBFY8f 
Topic: Experience of Internationally Educated Nurses in Canada. 
Guest Speakers: Rodolfo Lastimosa, RN (York University Alumnus, College of Nurses of Ontario Council Member - RPNs, Former RNAO-NSO President), Rey Ann Carter, RN (York University Alumna, Masters in Nursing Candidate at York University), 
When: November 28, 2022, at 5:30 pm 
Topic: Looking ahead: Potential of Filipina/o/x nurses in leadership, academia, and administrative roles. 
Where: Hybrid - this event will happen in person (location TBA), but you can also attend online (Register in advance for this meeting:)
https://yorku.zoom.us/meeting/register/tJcucOmsqjIuHdNZOrHpTt_Jw6Bt_aoVRFfg 
Guest Speakers: Dr. Valerie Damasco (Lecturer at the University of Toronto), Dr. Freida Chavez (Professor at the University of Toronto, Fellow in the World Health Organization (WHO) Collaborating Centre for Health Promotion in Hospitals and Health Care), and Professor Kristine Pedernal (Professor at York University)