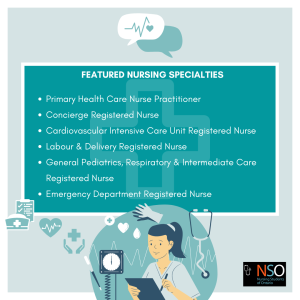 Hello Nursing Students!
The Nursing Students of Ontario (NSO) presents the... Highlighting Nursing Specialties With New Graduates Discussion Panel.

The purpose of this discussion panel is to learn about the unique experiences of various nurses who recently entered the profession. This event will allow nursing students in Ontario to hear about these new graduate nurses' journey to their current position, when/how they chose their specialty, what their personal experience has been like thus far in their field (especially during the pandemic), and more. The students will also be able to ask the panelists questions during the event and connect with them via email (for the panelists who are comfortable with doing so).

Join us to learn more about various professions that may interest you, and how these new graduate nurses managed their positions during some of the most challenging times in healthcare!
Panelists:
Andy Zhou, Nurse Practitioner
Rachel Ng, Private Healthcare Registered Nurse
Czarielle Dela Cruz, Cardiovascular Intensive Care Unit Registered Nurse
Yana Yael, Labour and Delivery Registered Nurse
Destiny Joyce Javier, General Paediatrics and Respiratory Registered Nurse
Josef Ommary, Emergency Department Registered Nurse

Date: Saturday November 12, 2022 at 10:00am  - 11:30am via Zoom. Our team aims to complete this discussion panel within 1 hour and 30 minutes to 2 hours, depending on the amount of questions asked by students towards the end.

If you are interested, be sure to register now!

We hope to see you there!