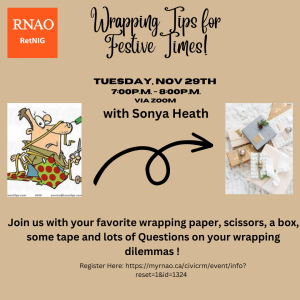 Ever envision yourself wrapping the perfect gift? Then, resorting to a gift bag?
Or, have you ever tried to wrap a gift but been dissatisfied with the result? 
Wrapping is a skill to be learned!
Join the Retired Nurse Interest Group (RetNIG) as we welcome Sonya Heath, a guru of present wrapping. She will share some secrets of wrapping pretty gifts that we can be proud of. 
Tuesday Nov. 29, 7 – 8 p.m. via Zoom
Bring along your favorite paper, a box, scissors, tape, lots of questions – and a good sense of humour!  
Register here: https://myrnao.ca/civicrm/event/info?reset=1&id=1324
See you then!
The executive of RetNIG