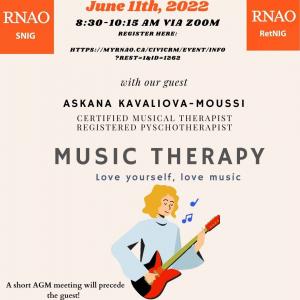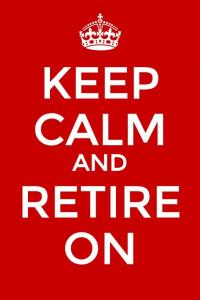 Happy Nursing Week to all retired nurses! For those still working we thank you for all you do . Nurses do Make a Difference!
Upcoming Events!
Join the Retired Nurse Interest Group and the Staff Nurse Interest Group for our annual general meeting (AGM) via Zoom on Saturday June 11th from 8:30-10:15 a.m. 
Our guest, Askana  Kavaliova-Moussi, certified music therapist and registered psychotherapist, will present "Music Therapy - Love Yourself, Love Music."
Register here:
https://myrnao.ca/civicrm/event/info?reset=1&id=1262
During these COVID times, the Retired Nurse Interest Group realized that nurses are at their wits' end with a pandemic that continues with no clear end on the horizon. Stresses that we see include increasing gas and food prices, a lack of affordable housing and a war that makes us question our future. We know listening to Askana will show us how music can help - not only in the health-care environment, but also to soothe our stressed lives during these uncertain times.
Elections:
Presently RetNIG needs the policy and political action and social media board positions filled. We will mentor anyone into these roles. We would also like a student to join our board - perhaps even to fill the social media position. We have Facebook, Twitter and Instagram accounts.  If you are interested in any of these positions please contact us at retnig21.rnao@gmail.com. There will also be a call-out in the near future by RNAO and you can apply there.
Hoping that everyone stays safe and healthy and are enjoying this spring/summer-like weather! As the sign says, Keep Calm and Retire On!
The RetNIG executive