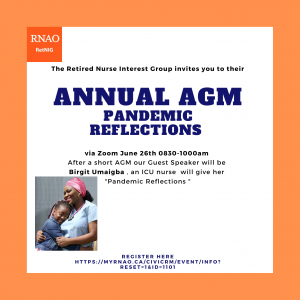 Join the Retired Nurse Interest Group for their annual AGM Saturday June 26th from 0830- 1000. After a short AGM  0830-0900, we will welcome our speaker Birgit Umaigba  !
Birgit Umaigba is a Critical Care/ER Registered Nurse and Clinical Course Director at Centennial College. Birgit will share her views and reflections on the pandemic through the eyes of an ICU nurse. This presentation will bring the experiences from the frontline of a black nurse while sharing the lessons learned. Brigit will discuss the impact of this pandemic on nurses and future impact to the profession. 
Birgit holds a Masters Degree in Education from York University and is fluent in French. Her nursing experience spans across a variety of clinical settings and she is a proud member of the Registered Nurses Association of Ontario.
Hope to see you all there ! 
RetNig Executive. 
Register here: https://myrnao.ca/civicrm/event/info?reset=1&id=1099