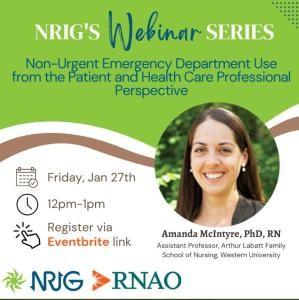 Hello NRIG members
Happy new year! 
Please see the attached winter newsletter highlighting our recent events, and upcoming funding opportunities. 

NEXT WEBINAR:
Join NRIG and Dr. Amanda McIntyre as she present her work on emergency (ED) use for non-urgent matters in an exciting upcoming webinar on Friday, January 27, 2023 from 12:00 PM - 1:00 PM EST.
Register for the FREE webinar here:
https://www.eventbrite.ca/e/non-urgent-ed-use-from-patient-and-hcp-pers…
ARE YOU INTERESTED IN PRESENTING YOUR WORK?
Please fill out your information in the link below and an NRIG representative will confirm the details with you via email: https://forms.gle/EPBdRF6UzhzHQmM77
NRIG is committed to advancing nursing research in practice, education, and policy. To promote nurses' and the general public's understanding of nursing research and its value to health care, we are curating an online gallery of creative and artistic expressions of nurse researchers' and students' experiences in and perspectives of nursing research as part of nursing praxis.
OPEN CALL: THE ART OF NURSING RESEARCH
We seek submissions that address the overall aim and/or any of the following guiding questions:
1)What does nursing research mean to you?
2)What distinguishes nursing research in the health care field?
3)What led you to nursing research?
4)How has nursing research become a part of your praxis?
5)From your perspective as a nurse researcher or student who has been involved in nursing research, what does nursing research (in general or your own specifically) contribute to health care?
6)What advice do you have to nurses entering nursing research?
We welcome submissions across any artistic genre, including but not limited to:
-Art (painting, drawing, collage, crochet, etc.)
-Written word (e.g. poetry, found poetry, word clouds, etc.)
-Multimedia stories (e.g. short film, video, short podcast, etc.)
To submit, please complete the Google Form: https://forms.gle/Y96NTuVSfHH8gwVQ7
NRIG is here to support your research needs! Reach out and let us know how we can support you in either learning more about research or helping you share your findings with our community. If there is content you want us to start developing, please let us know. Email us: nrig.chair@gmail.com
Sincerely, 
Charlene Chu, RN, PhD
Chair, NRIG