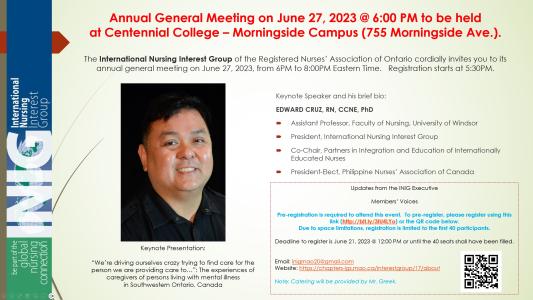 Dear INIG Member,
The International Nursing Interest Group of the Registered Nurses' Association of Ontario (RNAO) cordially invites you to its annual general meeting on June 27, 2023, from 6 – 8 p.m. ET. The event will be held at Centennial College - Morningside Campus (755 Morningside Road) in Scarborough. Registration starts at 5:30 p.m.
Pre-registration is required to attend this event. To pre-register, please register using this link (http://bit.ly/3IU4LYo) or the QR code found in the attached event flyer. Due to space limitations, registration is limited to the first 40 participants. Deadline to register is June 21, 2023 at 12:00 p.m. or until the 40 seats shall have been filled.
For further information, please refer to the attached event flyers in PDF and jpg formats.
Sincerely,
INIG Executive Network Officers