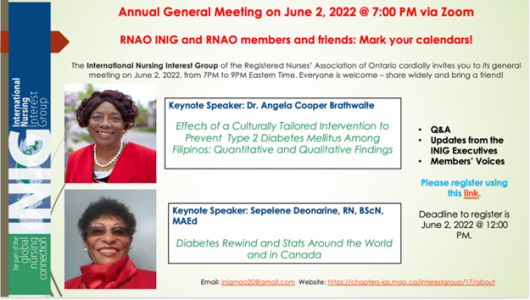 Please join us virtually on June 2nd for INIG's second Annual General Meeting! The topic of this AGM is diabetes and keynote speakers Dr. Angela Cooper Brathwaite and Sepelene Deonarine discuss research findings from studies they have conducted.
Date: June 2, 2022
Time: 7:00 PM - 9:00 PM
Please note after registering, you will receive a confirmation email containing information about joining the meeting.
Presenters:
Dr. Angela Cooper Brathwaite is currently the Financial Executive Network Officer (ENO) for INIG, however was one of the founding members of INIG and its first President. She was the Past President of RNAO, Co-Chair of RNAO's Anti-Black Racism Task Force and Graduate Faculty Member, Department of Health Sciences, Ontario Technology University (OTU). She holds a PhD in Nursing from the University of Toronto and a Master of Nursing from the University of Manitoba. Dr. Angela Cooper Brathwaite has extensive experience in leadership, nursing administration, nursing education, policy advocacy, health care systems and cultural competence. She has attained numerous academic and service awards throughout her career. She has published numerous peer-reviewed papers in professional journals focusing on chronic disease specifically the prevention of type 2 diabetes and culturally tailored intervention research for minority groups (Sub-Saharan Africans, Black people from Canada and Caribbean, and Filipinos) and racism and discrimination among Black Canadians.
Sepelene Deonarine, RN, BScN, MAEd, is currently the Policy and Political Executive Network Officer (ENO) for INIG, however was also one of the founding members of INIG. Sepelene has been an active member of RNAO for 30+ years holding various roles, such as the Policy and Political ENO for the Durham Northumberland Chapter, past Membership ENO for INIG, past member of the Provincial Nurses Educator Group, Maternal and Child Interest Group, and the Community Health Nurses Interest Group. Presently she is a member of the Diabetes group, the International Diabetes Federation (IDF), and the Diabetes Canada Regional Representative and Advocate. Sepelene has expertise in Clinical, Leadership and Administration as Manager and Education Coordinator Maternal and Child Programs, and Educator in the Community and Academia. Currently she is part of the Durham Region Immunization Program, Outreach Educator for Diabetes Canada and Local Health Integrated Network. Sepelene has obtained numerous awards over the years and continues to seek any opportunity to educate herself and others.