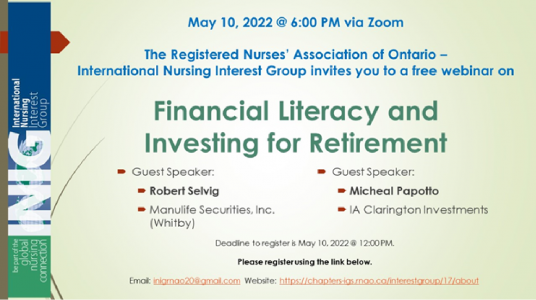 Please join us on May 10th as Robert Selvig from Manulife Securities and his colleague Michael Papotto former Vice President from an Investment Company in Alberta discuss Financial Literacy and Investing for Retirement.
Date: May 10, 2022
Time: 6:00 - 7:00pm

Speakers:
Robert Selvig entered the financial industry in 2004 when he joined Edward Jones as a financial advisor. In 2010, Robert moved to the Whitby branch of Manulife Securities Inc., where he currently helps clients in all stages of investing, specializing in retirement planning and tax-efficient income. He has extensive knowledge in many different investment vehicles, and customizes plans based on clients long and short-term goals.
Michael Papotto entered the financial industry in 2000 when he joined CI Investments as a client service representative. In 2004, Michael joined IA Clarington Investments as an internal wholesaler representing the Greater Toronto Area (GTA). In 2011 Michael was promoted to vice president of sales, based in Calgary, Alberta. After successfully supporting advisors in Alberta, Michael moved back to Toronto with his wife and daughter in 2015 to represent the firm in the GTA region. Michael is married with two children,  Maya and AJ, aged 7 and 5.