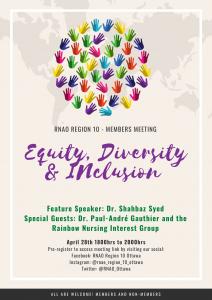 Hello Region 10 Members,
Equity, Diversity and Inclusion (EDI) has become an important rallying point and component of organizational structures. Recognizing the importance of equity in the social determinants of health, healthcare organizations have begun to place very specific focus on this issue.
Join us on Thursday, April 28th from 1800 - 2000hrs for a special presentation on building awareness of equity, diversity and inclusion initiatives and why you should be involved. 
Feature speaker:
Dr. Shahbaz Syed will be sharing his experience on building up a grassroots EDI (equity, diversity, and inclusion) committee in the Emergency Department of the Ottawa Hospital and tips on how you can start an EDI committee within any organization. Dr. Syed is a staff Emergency physician at the Ottawa Hospital, the assistant director of Digital Scholarship and Knowledge Dissemination, and Co-Editor in Chief of the EMOttawa Blog.
Special Guests: 
Dr. Paul-André Gauthier and the Rainbow Nursing Interest Group
On behalf of the Rainbow Nursing Interest Group, Dr. Paul-André Gauthier will be providing an update on the interest group's recent initiatives, including the release of the new  Promoting 2SLGBTQI+ Health Equity
-------------------------------------------------------------------------------------------------------------------------------
Register in advance for this meeting:  CLICK HERE TO REGISTER
After registering, you will receive a confirmation email containing information about joining the meeting. 
We encourage current members to invite non-members as we are always looking to expand our chapter. ALL ARE WELCOME.
-------------------------------------------------------------------------------------------------------------------------------
We are always interested in exploring new opportunities and welcome members to share suggestions for future events. Feel free to contact us with your ideas at rnao.ottawa@gmail.com
Kind regards,
Stephanie McLarty, RN
Region 10 - Communications
-------------------------------------------------
Follow us on social media:
Facebook: RNAO Region 10 Ottawa
Instagram: @rnao_region_10_ottawa
Twitter: @RNAO_Ottawa