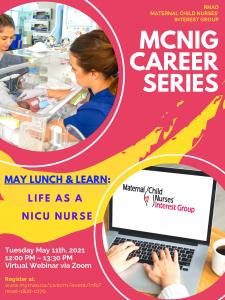 Lunch and Learn: Life as a NICU Nurse
Tuesday May 11th, 2021
12:00pm - 1:30pm
Did you ever consider working in the NICU? Wonder what the job would be like? Join MCNIG's first Lunch N' Learn session to hear the experiences of nurses who work in various roles within an NICU.
Welcome to the start of our MCNIG Careers Series
This month of May, we decided to begin by exploring career paths in the Neonatal Intensive Care Unit field. 
The webinar will be hosted by MCNIG and our panelist presenters who all have had very different experiences throughout their NICU nursing journey. This is a great networking opportunity for new graduate nurses as well as current RNs who might be interested in pursuing a career in NICU. There will be opportunity for a Q&A with all the panelists. 
Please join us for an exciting lunch & learn webinar!
WHO:  Panelist Presenters
Atefeh Hosseini, RN - NICU at Michael Garron Hospital
Maggie Richter, RN - NICU at Hospital for Sick Children
Kristian Ashali, RN - McMaster Children's Hospital
Ursula Cote, RN - NICU at Thunder Bay Regional Health Sciences Centre