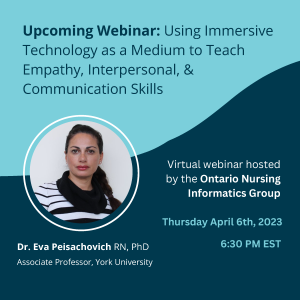 Please join us for our upcoming webinar: Using Immersive Technology as a Medium to Teach Empathy, Interpersonal, & Communication Skills on Thursday, April 6, 2023 at 6:30pm.
Presenter: Dr. Eva Peisachovich is an Associate Professor at the School of Nursing at York University. Eva's program of research involves exploring, developing and implementing pedagogies associated with simulation-based environments including simulated persons (SPs), Virtual Reality (VR), Augmented Reality (AR) and serious games to promote professional competence among students within higher education milieus and their transition to the workplace. 
Eva envisions opportunities to humanize education through various mediums including simulations, virtual learning and immersive technologies to provide high-quality experiential education to learners within academia and the community. Eva is further interested in exploring how the application of empathy and emotional intelligence can be weaved into the post secondary curricula and professional development programs through various interventions.