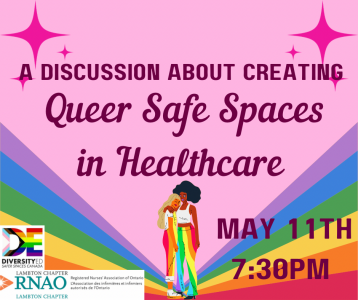 Wednesday May 11 at 7:30pm until 8:30pm
A panel event that is co-hosted with RNAO Lambton and Diversity Ed in Sarnia. [https://diversityed.ca/]
We will be discussing how we can work together to create safer spaces for the 2SLGBTQ+ population in healthcare.
Please submit any questions you would like answered during the discussion by emailing LambtonRNAO@gmail.com prior to the event on May 11.

Please register HERE 
Further information on the panel can be found HERE 
We look forward to the discussion and invite you to come learn what you can do in your own practice to make spaces safer for everyone.
Lambton RNAO Chapter.