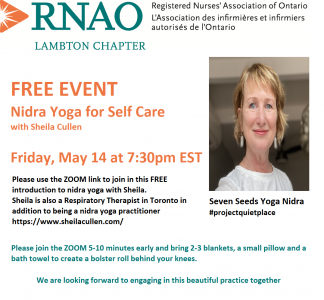 Please join the Sarnia-Lambton Chapter of RNAO for a FREE virtual event to celebrate Nursing Week: Nidra Yoga for Self Care with Sheila Cullens.
This event is taking place on: Friday, May 14 at 7:30pm 
Sheila is a Respiratory Therapist who works in Toronto in addition to being a Nidra Yoga practitioner.
More information can be found here: https://www.sheilacullen.com/about
#projectquietplace
Please use this google form to register for the event: https://forms.gle/PHLrZWAuzELQPZa5A
 
A link will be sent to you on the day of the event. If you don't receive a link and would still like to participate, please email LambtonRNAO@gmail.com.
 
Sheila will arrive 10-15 minutes early on Friday, May 14 and suggests anyone who wishes can do the same. She will take the first 3-5 minutes to explain the practice of Yoga Nidra.
You will need 2-3 blankets, a small pillow and a bath towel to create a bolster roll behind your knees to effectively participate.
Yoga Nidra is a unique form of guided meditation-most often practiced lying down. As the body rests, you are guided through eight stages of relaxation. Your brain rhythms are able to slow down helping your brain and body to relax and drop into a state of deep release and silence.
Give yourself permission to attend this free event.


We are looking forward to engaging in this self care practice with you.

Sincerely,
Sarnia-Lambton RNAO